About
The Minnesota Historical Society preserves and makes available a wide range of materials chronicling Minnesota's history and culture. The goals of the Collections Department are to collect and preserve; provide access and interpretation; and engage in education and outreach. This blog is a tool to share these stories and let people know what is happening in the department.
 Subscribe in a reader
Cardigan Weather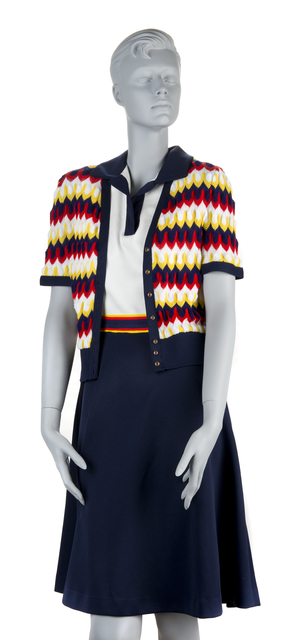 As the weather inches its way toward being more fall-like, our thoughts turn to cardigans.
Today we present this A-line polyester knit dress with a cardigan, worn by Barbara Grahn of Minneapolis in 1970. The sleeveless dress has a white top with dark blue collar, dark blue skirt, and the appearance of a red, yellow and blue belt. The sweater is edged in the same dark blue, with a red, white, yellow and blue design.