Speak up for history during Virtual History Matters Advocacy Day on Thursday, February 25. This year's legislative session will be important for funding history initiatives, including Legacy Amendment funds. Plan to visit with your legislators remotely to let them know about the important work carried out with Legacy funds.
Join us at 9:00 am on Feb 25 for a Zoom gathering with MNHS CEO Kent Whitworth who will talk on the relevance of history, and MNHS Director of Public Policy, David Kelliher for an advocacy orientation.
Contact Rebecca Douden at rebecca.douden@mnhs.org or 651-500-8067 with questions.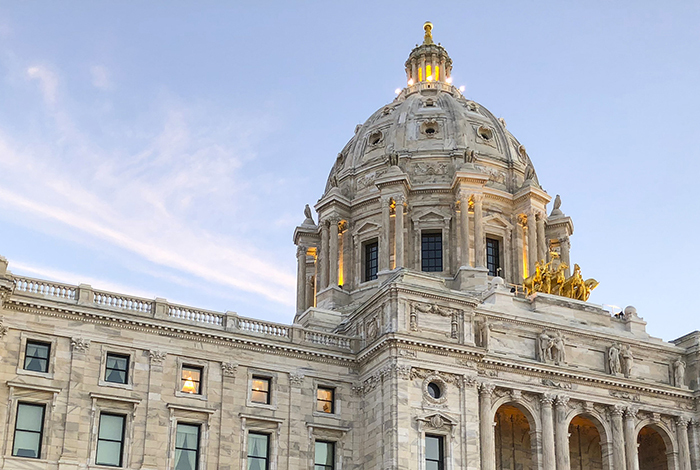 Why you should speak up for Minnesota history
Regardless of our state's economic situation, it's important to not lose sight of the value of MNHS  and other history organizations to all Minnesotans. Legislators and the governor need to hear from voters that funding MNHS, history education, grants and preservation programs is a good use of tax dollars.
Whenever you speak up for history, you're making a difference. Effective ways to speak up:
Send a message to your state representative, senator, and the governor
Have a Zoom meeting with your representative
Write a personal letter to your representative
Call your representative
Write a letter to the editor of your local newspaper
Tell your friends and colleagues
Use social media to spread the word about the importance of history
Support Minnesota history
Ask Governor Walz and your state legislators to support strong operating funding for MNHS this legislative session.
Ask Governor Walz and your state legislators to support robust Legacy funding for history this legislative session.
Preserving the past for future generations
Learn more about history organizations that carry out the work of preserving Minnesota's legacy. Read the 2021 MNHS Legacy Report.
Minnesota History Advocates for Research